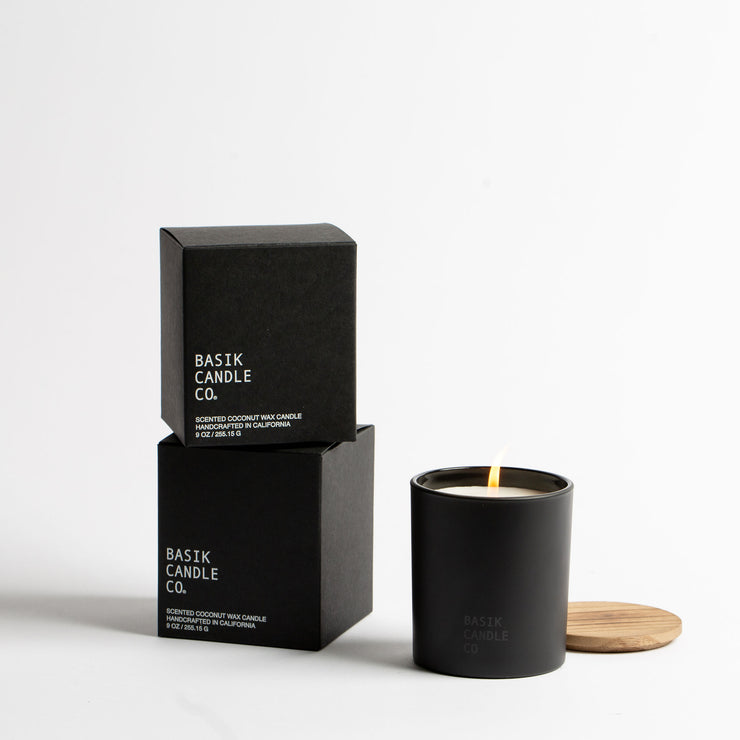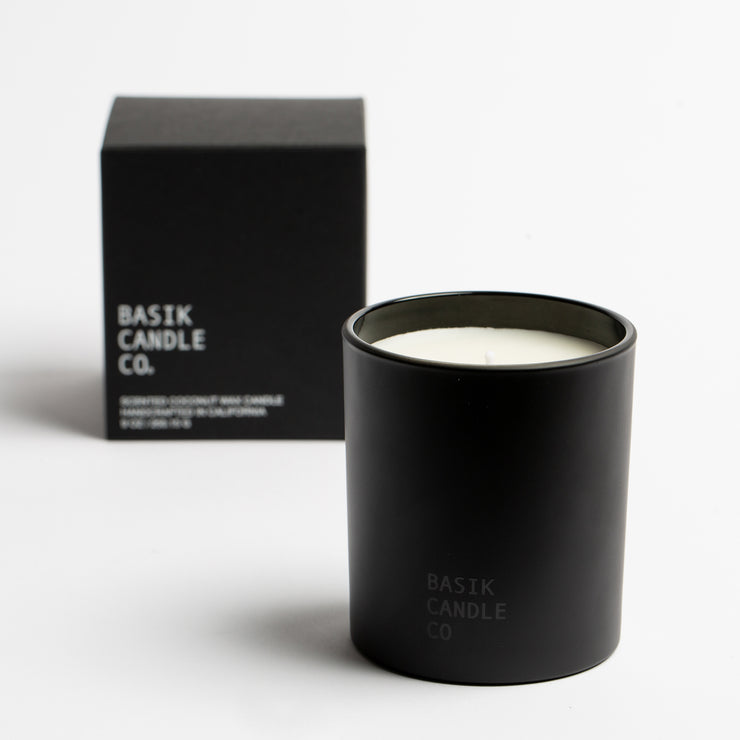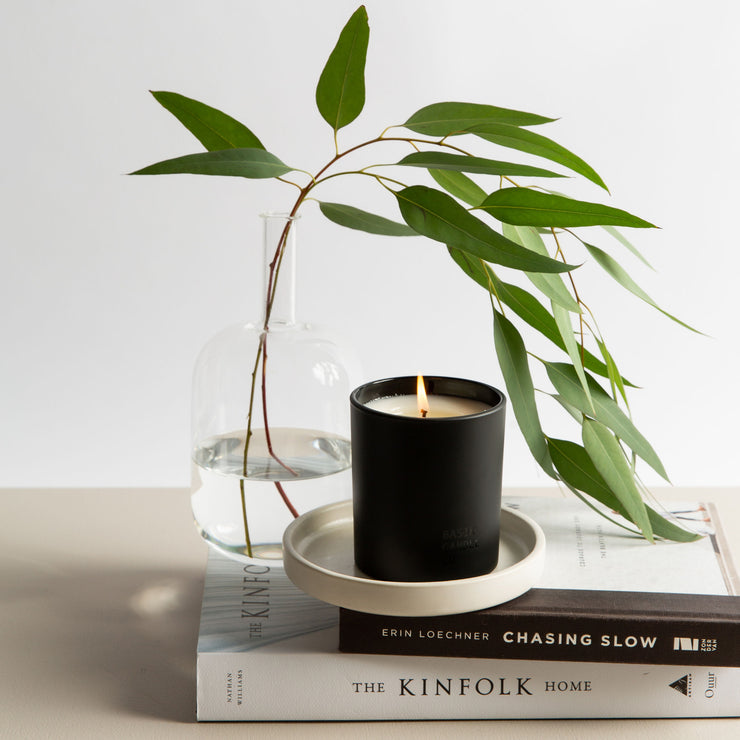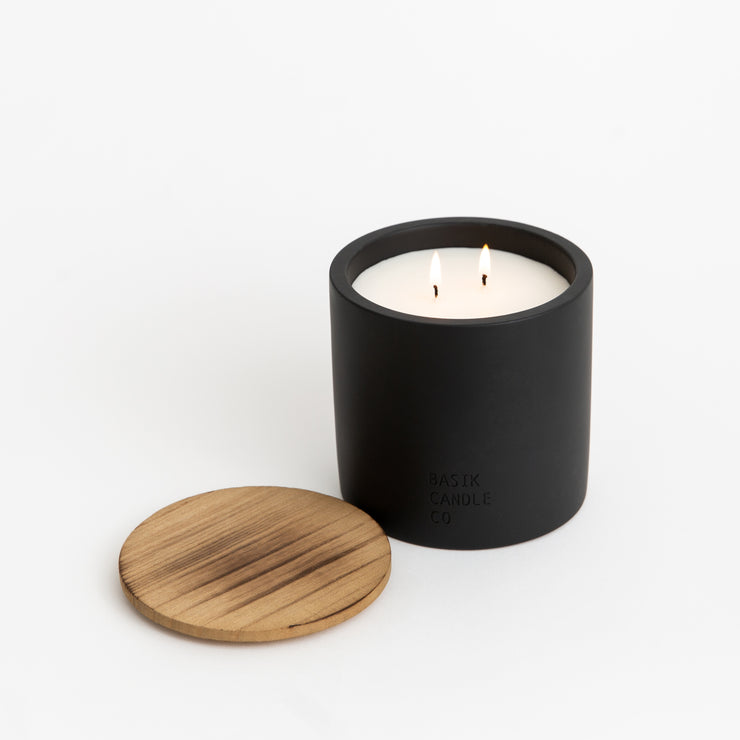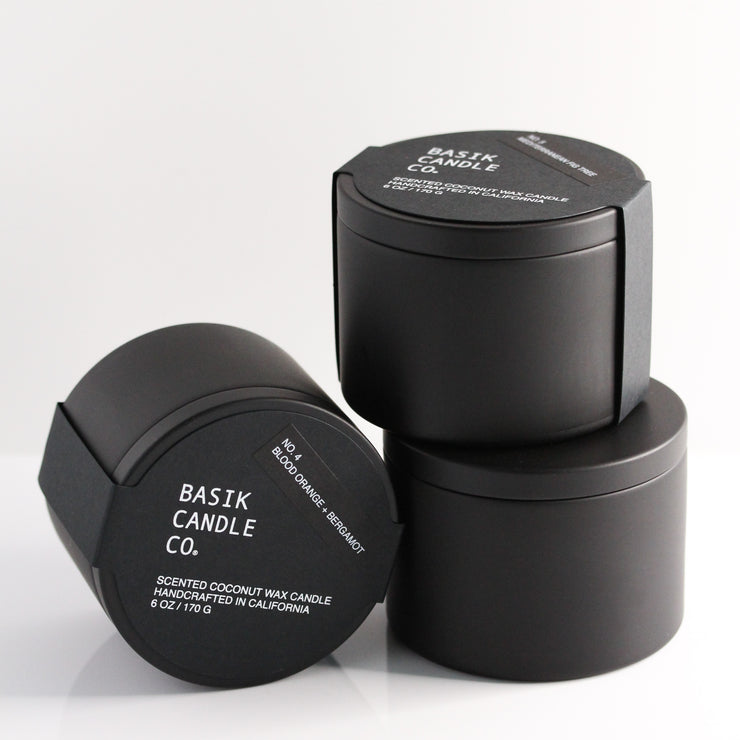 Bold, smooth, seductive + sexy.  Aged teakwood and sandalwood combine with pimento berry and sweet tobacco to create a feeling of warmth and comfort.  Perfect for a cozy night in.
SCENT NOTES:  Sandalwood, amber, spice, vetiver, black pepper, patchouli and pimento berry.
ESSENTIAL OILS:  This candle is infused with cedar wood, patchouli, black pepper and pimento berry essential oils.
***As of Oct '23, our 9 oz candles will no longer come with a lid in an effort to keep costs down and reduce our impact on the planet. We hope you understand!***
Made with a proprietary premium coconut wax blend, our candles offer a clean burn and powerful scent-throw. We use only the purest phthalate-free fragrance oil blended with essential oils, and all-cotton wicks. Our packaging is 100% recycled and we encourage you to recycle the box after opening.
Our 9 oz single-wick candle comes in a glass container that is approx. 3" in diameter and 4" tall, with a burn time of 45-50 hours. Our 20 oz double-wick candle comes in a black concrete vessel that is approx 4.5 tall and wide, with a burn time of 60+ hours.
To achieve the maximum burn time, it is recommended to burn each candle no more than 4 hours at a time, and to trim the wick to 1/4" before relighting. Each candle comes with a smoked, wooden lid that can be used as a coaster to protect heat-sensitive surfaces while burning.
CONTAINERS:  Our containers are finished with a matte black treatment which can show fingerprints over time.  This is very easy to remove with paper towel and a window cleaner.  
BURNING:  Before each use, wick should be trimmed to 1/4".  To maintain optimal performance, candles should be burned until the melt pool reaches the edge of the container, but not to exceed 3-4 hours at a time.  Failure to do so can result in wax buildup around the edge of the container.
SAFETY:  Please follow all safety instructions on warning label when burning our candles.  
---